Human centric lighting
for healthy buildings
DALI64 lighting system with PG5 IRM
creates SMART and healthy building solutions which enables wellbeing and productivity increases
Highlights
Improving occupants productivity and wellbeing
More efficient use of the building and facility cost savings
Efficience Maintenance
Energy cost savings and carbon foot-print reduction
Easier to use for occpant by using a single wall module for HVAC and Light and Blinds
Human centric lighting
Human Centric Lighting matching the circadian rhythms to influencing the biological body process and hormone production.
According to a Dutch study, employees found that a human-centric lighting system improved work accuracy by 12% and performance by 18%. In addition, 76% of staff reported feeling happier, 50% felt healthier and 71% had more energy. Our time-controlled lighting system varies colour, temperature and intensity during the course of the day. This circadian-friendly lighting sequence synchronizes lighting with the natural biological rhythm of the building's occupants.
Creating a Healthy Office
Increase productivity and wellbeing
Increase staff health
Evidence based on studies and data records analysed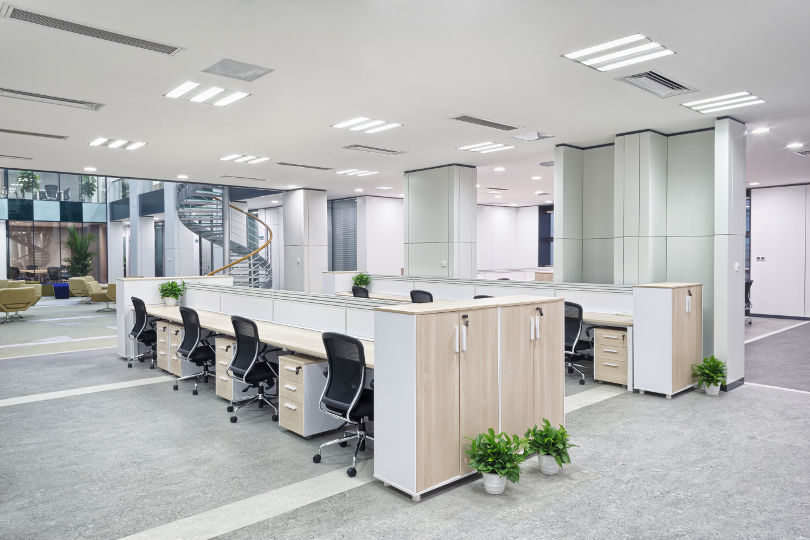 DALI64 lighting system
Maximize functionality, efficiency and comfort
Enable automation functions across a building, save energy costs and fine-tune occupants' lighting experience. Simply integrate our DALI64 lighting system into a PG5 IRM room control system. Want SMART building services at your fingertips? Add a PCD Supervisor.
The right lighting can transform schools, hospitals, production plants and offices into oases of health, comfort and productivity. Human centric lighting is proven to bolster productivity and well-being. We incorporate this into our unique total solution approach that includes good ventilation and air quality, comfortable temperatures and noise levels that are adapted to the occupants' needs. Comfort and building space utilization are then optimized by evaluating occupancy data and reducing artificial lighting costs with the help of daylight harvesting. This circadian-friendly lighting sequence synchronizes lighting with the natural biological rhythm of the building's occupants.
State-of-the-art
intuitive and considerate
DALI64 is a fully featured DALI2 lighting control system embedded in a cutting-edge PIR sensor with light level measuring. Packed with innovations, it natively integrates over the Sylk-bus with PCD7.LRxx-P5 freely programmable room controller for room automation. DALI64 presents compelling propositions to installers, end users and energy managers. Best of all, it also integrates to achieve high energy cost savings while bolstering end-user comfort through human centric lighting and building occupancy analyses.
Optimizes well-being and productivity.
Saves overall facility costs.
Saves energy costs.
Efficient and direct maintenance.
Minimizes installation cost and commissioning time.
Human centric total-system integration.
Installation savings
The DALI64 couldn't be easier to install, commission and optimize. Our intuitive Light Touch App allows you to position your lights and devices on a customized building map, so you can easily arrange groups and scenes.
Integrated power pack supplies 150 mA of current for the DALI bus and makes an additional DALI power supply superfluous, which reduces the installation effort
No additional cost for PIR sensor – built-in DALI64 light control system
No additional installation and wiring costs for DIN mount light controller
No integration gateway for lighting to SBC BMS, just a two-wire connection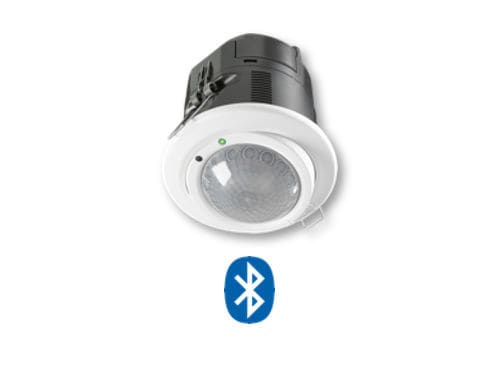 Commissioning efficiency
Simple and comfortable lighting commissioning experience with intuitive Light Touch App
A simplified commissioning will be enabled with the intuitive Light Touch commissioning App which allows to connect to the DALI system over Bluetooth and conduct a bus scan. Any luminaire or DALI device is visually presented in a carousel and can be dragged and dropped with a simple one finger action into a user defined map of the space. Once you have all your lights and devices positioned on your building map you can then set up groups and scenes with minimum fuss.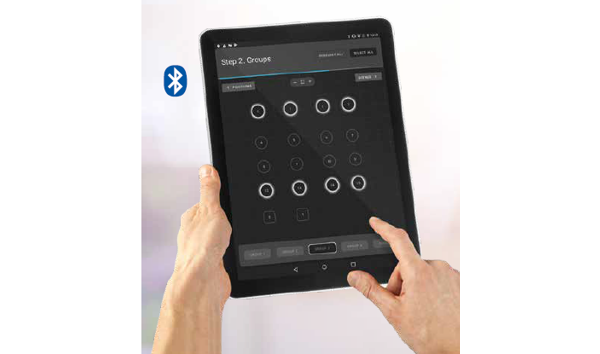 Integrating DALI64 into the PG5 IRM system and the Saia PCD Supervisor enables the exploration of SMART building analysis, thus generating valuable insight into room and building efficiency and utilization
Facility cost savings
Easily sharing occupancy data to create report for room usage
Staff optimization by creating a cleaning roster based on occupancy to save time and money
Building space optimization by reporting frequency of usage for various spaces such as meeting rooms
Improve employs productivity and well-being
By adjusting lighting to match natural circadian rhythms to influence the biological body process and hormone production
Maintenance cost savings
Use maintenance dashboard for example to identify the burn time of luminaires, plan predictive maintenance schedules, minimize disruption and maximize productivity
Reduce maintenance costs by utilizing the Light Touch App with a dedicated maintenance access which enables even facility mangers to conduct basic repairs
Energy cost savings
Cut energy costs by integrated and demand-driven room automation in accordance with class A of the European Directive EN 15232 and use the integrated daylight harvesting functionality
The Saia PCD® Supervisor software will allow you to create and write further strategies aimed at optimizing energy use
TR80 modbus wall module
The TR80 is a wall module with integrated Temperature and Humidity sensors and with capacitive backlit touch keys which consolidating temperature, fans, blind and lighting control and air quality monitoring over 1 device. With maximum use of Icon and dynamic capacitive backlit keys it offers an intuitive multi-language interface for employees and guests. This system approach with TR80 is helping to Replace the traditional wall clutter of multiple displays and switches on the wall for HVAC, Light and Blind control.
Key Features
On Board Temperature and Humidity sensors
Display Outdoor and Indoor air quality with external sensors
Fan Modes: EC Fan, 3 Speed, 2Speed and 1 Speed
Heat-Cool Modes: and up to two source selection for each
Ten capacitive touch keys
Various Occupancy Modes (Occupied, Unoccupied, Bypass, Away, Holiday)
Light control up to 4 groups with option to control DALI64 Modbus directly
Sun Blind control up to 2 groups
The bezel-less design and glass screen are easy to clean and disinfect, helping ensure the user's safety and hygiene
'Do not Disturb' and 'Make up Room' options for the hospitality sector
Available in 24V AC/DC and 230V AC versions for easy of power
Technical documentation
Additional informations
Product family
DALI64 Accessories
Several DALI64 accessories make this system even more competitive:
Bluetooth wireless switches – Self-powered, innovative and patented technology 'harvests' energy, requiring no batteries and thus no maintenance
DALI Switch input module - Install directly into a conduit box to convert normal 'push-to-make' switches into DALI switches
6 button Scene Plate - High-quality display with real glass that is easy to clean
Remote Infrared operation unit - Light level adjustment, also set and recall six distinct lighting scenes
More information